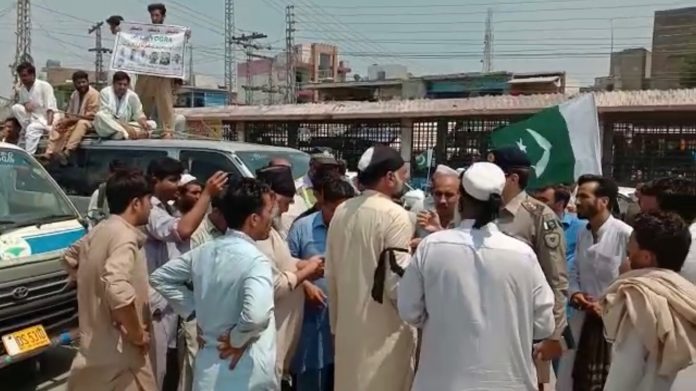 DARGAI: All Khyber Pakhtunkhwa Goods Transport Federation has announced a province-wide protest on March 16 against the Motorway Police, Excise Police and National Highway and Traffic Police.
On Monday a protest of transporters was held in Dargai which was led by the federation's provincial president Muhammad Jameel Khan. The protesters chanted slogans against the alleged highhandedness of police.
After the protest, Muhammad Jameel, provincial chairman Haji Liaquat Khan Hoti, vice chairman Muhammad Ayub Jadoon, vice president Saeed Jamal, general secretary Haji Sikandar Khan and other office holders said at a press conference that the Excise Police was unnecessarily teasing the transporters. They alleged that the Excise Police, despite complete documents, tease transporters in the name of tampering and receive bribe. They said the heavy fines imposed by the Traffic Police have also made the life of transporters difficult.
The transporters said National Highway and Traffic Police are also imposing fines in the name of overloading. They said the transporters have been pushed to the wall and they have no option but to stage protest. They said main highways would be blocked during the protest.
ANP to stage protest at Torkham border
The Awami National Party (ANP) leaders in Khyber tribal district have said the party under the leadership of the provincial president Aimal Wali Khan will stage a massive protest at Torkham border tomorrow (Wednesday) against closure of trade routes with Afghanistan.
Announcement to this effect was made by the ANP Jamrud president Umar Afridi while addressing a press conference at Jamrud Press Club along with other office-holders on Monday. He appealed to all the tribes of Jamrud to support the protest for promoting business activities and creation of job opportunities in the region. He said currently the traders and other people are facing a lot of difficulties in the trade across the border and crossing the border for different purposes. He said the protest did not have any political motive and the only purpose is change in government policies for the betterment of people.
Umar Afridi said the ANP activists will gather at Bacha Khan Markaz in Peshawar and then march towards Pak-Afghan border in Torkham.
Hits: 0