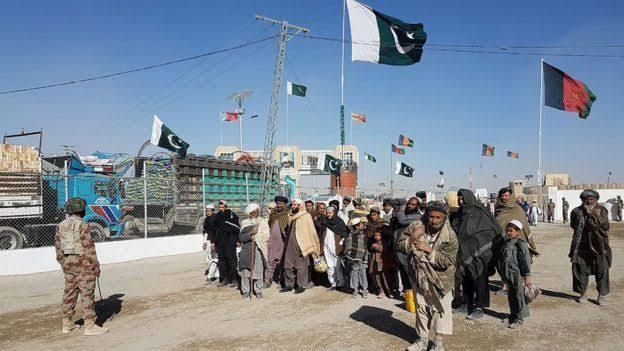 WANA: Truck drivers are holding wheel-jam strike outside the Customs Terminal at the Pak-Afghan border in Angoor Adda, South Waziristan tribal district, for last one week.
About 600 trucks are stranded on both sides of the border due to the wheel-jam strike which is causing massive losses to traders and transporters.
The transporters have demanded the Customs officials to resolve their genuine issues otherwise the protest will continue.
On the other hand, Customs Terminal Inspector Sabugtageen told media that exports of about Rs2.25 million are made on daily basis from Angoor Adda border gate, while imports stand at $1.03 million. He said about 4,000 families have got employment due to opening of the Angoor Adda terminal which is a positive development for improvement of economy of the area.
Sabugtageen said some elements are putting hurdles in the smooth functioning of the border terminal. He said facilities from Customs Department are negligible. He demanded the concerned authorities to provide facilities at the terminal.
Recently, the Gangikhel tribesmen staged a protest demonstration outside the Customs office at Angoor Adda over parking tax.
While addressing the protesters, tribal elders said different institutions receive parking tax from vehicles on the land owned by Gangikhel tribe. They said the officials have also forbidden the Gangikhel tribesmen from receiving the tax. They said they will only withdraw from their right to receive the tax after the government gives back the land to Gangikhel tribe. They said an agreement about the land has been signed with Scouts Force and district administration, but still the government was not allowing Gangikhel tribe to collect parking fee.
A Customs agent told TNN on condition of anonymity that Scouts Force, district administration and police are in differences with each other to pursue their own interests. He said Ahmedzai Wazir tribe is suffering losses of millions of rupees due to this confusion. He said the chief minister, corps commander Peshawar and Inspector General Frontier Corps South must take notice of the issue.
The Customs agent told that Scouts Force receives 30 percent tax per truck from the area.
Hits: 1