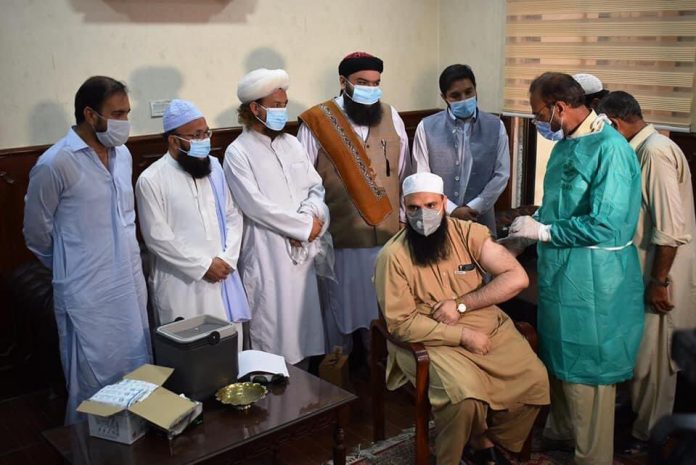 PESHAWAR: As many as 337,248 people have completed their vaccination procedure in Khyber Pakhtunkhwa as the process has gained momentum.
According to a spokesman for the KP Health Department, 321,797 health workers and senior citizens have been administered the first dose of Sinopharm vaccine, while 243,952 senior citizens have been administered the second jab of the vaccine. He said 526,028 health workers and senior citizens have taken the first jab of Sinovac in KP, while 49,154 health workers and senior citizens have also taken the second jab of Sinovac against corona. A total of 44,142 senior citizens have been administered Cansino, while 123,566 health workers and senior citizens have taken their first dose of the AstraZeneca vaccine.
"992,328 KP residents vaccinated (1st dose) till 12th June. 496 corona vaccination centres, 36 mass vaccination centres established and 43 mobile vans operational," said a tweet of the Health Department.
KP Health Minister Taimur Saleem Jhagra has directed the Health Department to increase CVCs to 1,000.
Those who administered coronavirus vaccine on Saturday also included Ulema (religious leaders) from various schools of thought.
"Respected Ulema of the province are getting vaccinated across the country; dozens of Ulema got vaccinated in Peshawar," said another tweet.
The health minister has urged all citizens to get vaccinated by sending CNIC (computerised national identity card number) on 1166 and get registered for vaccination.
The Health Department further shared that eight hospitals have been outsourced in merged tribal districts and Chitral, and 10 more hospitals are being outsourced and will operate in Public-Private Partnership mode. Taimur Jhagra has directed Health Foundation to expedite the process.
Coronavirus situation is gradually coming under control in Khyber Pakhtunkhwa and rest of the country. On Saturday, KP reported 186 corona cases and nine deaths. The KP total coronavirus caseload has increased to 135,569 and the death toll has climbed to 4,203.
KP has been reporting about 3 percent corona positivity rate over the last one week. The encouraging situation has encouraged the government to open almost all sectors, particularly the schools, but now the heat wave is another problem due to which the government is going to announce holidays sooner or later.