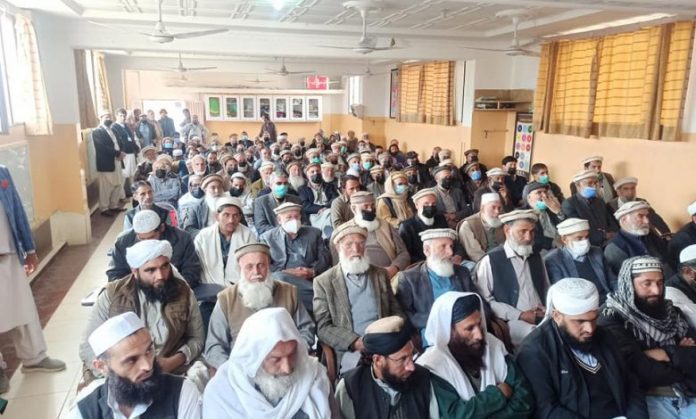 Khalida Niaz
PESHAWAR: Many parents in Pakhtun society remain unable to arrange marriages for their daughters due to the absurd tradition of dowry and some other unnecessary practices just for show-off.
On the other hand, women are kept deprived of share in ancestral property. Sharafat Ali, senior vice president of Qaumi Jirga, tehsil Barikot in Swat, says the tradition of expensive dowry has eaten up the goodwill in the society in Swat and rest of Khyber Pakhtunkhwa and many girls have past the age of marriage as their parents are unable to meet expectations of dowry from the families which bring marriage proposals with huge demands.
"Parents either take loan or sell their lands and property for marriage expenses of their daughters," Sharafat Ali said while talking to TNN.
He says other unnecessary practices during marriages have also increased making the situation even more difficult for parents. To cite an example, he says people nowadays prefer marriages at wedding halls which are too expensive for middle and lower middle class people.
Sharafat says the Ulema, elders and notables of Swat arranged a Jirga in Barikot few days earlier to create awareness among the people under the teachings of Islam.
Agreement to be signed after campaign
Sharafat says the Qaumi Jirga has announced a campaign against dowry and other such needless traditions. He says the Jirga members will visit different places in Barikot to create awareness among the people. He says the Jirga will bring out a pact after conclusion of the awareness campaign. He says the Jirga members will announce social boycott of those violating the pact.
Legislation about dowry in doldrums
A bill was presented in the KP Assembly in 2017 about discouraging the tradition of dowry and other related matters, and it was referred to a committee, but it could not be approved yet.
The bill envisaged that dowry would be banned and women will get share in ancestral property. It says no parents would present gift in excess of Rs10,000 to daughter, and wedding reception expenses would not exceed Rs75,000.
The bill further calls for the groom to offer one-dish reception, while the bride's family would offer tea or drinks on arrival of Barat. On violation, a groom may face Rs200,000 fine, three-month imprisonment or both. On demanding dowry, the groom's family may face two-month imprisonment and Rs300,000 fine.
Sharafat Ali says the tradition of dowry is in its worst shape in India, but it was also adopted in our society, and it is going from bad to worse state. He says the Qaumi Jirga would run the campaign on its own with a noble intention to bring an end to absurd traditions.
Role of Ulema
Maulana Muhammad Shoaib from Barikot says Ulema will guide the people about the true spirit of Islamic teachings on Dowry, share of women in property and other related matters.
Maulana Shoaib says Islam teaches balance in expenditure. "The practice of show-off has gained precedence in our society and almost everyone has become part of a race to spend more on unnecessary things," he said.
He appealed to the people to do away with absurd traditions and give rightful honour to women by giving them share in property under the teachings of Islam.
Hits: 0