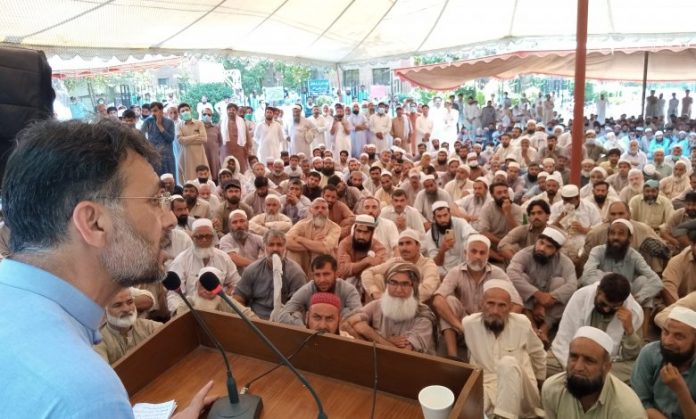 Rifaqatullah Razarwal
PESHAWAR: The Khyber Pakhtunkhwa government has set up a committee to devise a strategy for tackling the financial problems of the universities.
However, the Federation of All Pakistan Universities Academic Staff Association (FAPUASA) has rejected the formation of the committee.
According to a notification issued from the office of Special Assistant to Chief Minister on Higher Education, a five-member committee has been formed to engage representatives of faculty/administrative staff of public sector universities to listen to their grievances/demands, and submit a report to the chief minister.
On the other hand, the protest of the University of Peshawar teachers and employees against reduction in salary and allowances is continuing for the last six days.
FAPUASA reaction
The FAPUASA has rejected the formation of the committee and termed it a mockery with the university staff.
FAPUASA General Secretary Dr Sadiq Ali said while talking to TNN that such persons have been included in the committee who are already causing problems for the universities. He said the Higher Education Department had written a letter to vice chancellors of all the universities in which they were directed to form a system of salaries for 12,000 employees and their allowances and other perks be withdrawn.
"The Higher Education Department has created this problem which compelled the university staff to hold protests. In this situation how can we expect from the Education Department to resolve this issue," he questioned.
Dr Sadiq said the government should form a committee of ministerial level if it is serious in resolving the issue.
On Monday, the situation went out of control when police resorted to baton charge and fired teargas shells on the UoP teachers and employees who were protesting for their rights. As many as 21 persons, including 10 professors, were also booked over charges of violating coronavirus standard operating procedures and blocking the highway outside the university. However, all of them got bail the next day.
Peshawar University Teachers Association (PUTA) President Dr Fazle Khaliq said the government has directed the universities to reduce their expenses and run their administrative affairs on their own. He said the government directives mean the universities should increase fee of students, which is impossible in this era of inflation. In such a scenario, he said, only the children of rich people would study in universities, while the children of the poor people would remain deprived of education no matter how much ability and intelligence they have.
Former president of PUTA Jameel Chitrali said he doesn't believe the committee will prepare a report in favour of the university teachers and staff. He demanded formation of a judicial commission over resolving problems of universities and to probe torture of university staff by police.
Hits: 0