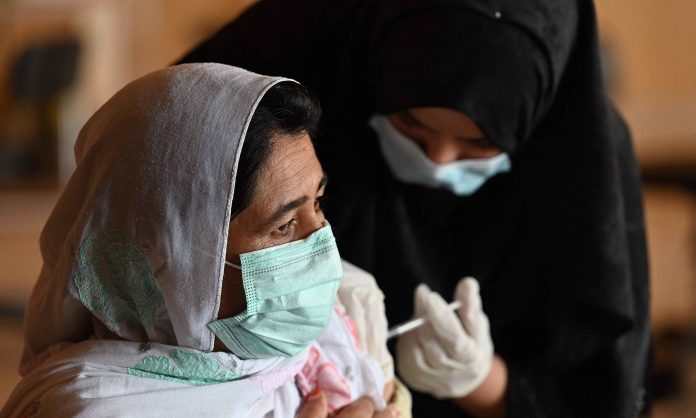 PESHAWAR: Reports of issuance of fake coronavirus vaccination certificates are surfacing in Khyber Pakhtunkhwa, while the concerned officials said they are taking action against people involved in this practice.
TNN came to know about two such cases where the Health Department officials made entry into the data system of Nadra without actually administering vaccine.
A youth from Buner told TNN on condition of anonymity that he talked about fake vaccination certificate to a friend, who gave him a phone number of an official, who can make such arrangement. The official asked the person from Buner to send his CNIC copy through WhatsApp and he received the certificate the same day.
The Buner youth said he got the certificate urgently because the government was making announcements that those not undergoing vaccination will face blockage of their mobile SIMs and travel restrictions. He said he went to vaccination centre twice but returned after seeing so many people there, and then he used the 'short-cut'.
A woman from Kurram tribal district has also managed to get fake vaccination certificate, but now she feels that she has committed a mistake. She said he has to go to hospital for treatment of different health issues. She said she saw in the hospital that many people are dying of coronavirus and she also needs to undergo vaccination, but now she has lost this option after getting fake certificate. She fears that this act may land her into trouble.
About the arrangement of fake certificate, she revealed that the person who made this arrangement asked her to send someone else for vaccination. She then sent an Afghan woman for vaccination and certificate was issued in her name. She had to bribe the Afghan woman and the vaccinator for getting fake vaccination certificate.
Khuda Bakhsh, who was standing in queue outside a NADRA office in Swat, said he needs certificate to avoid travel and other restrictions. A woman there said she needs certificate to get financial assistance under BISP and Ehsaas program.
Saleem Khan from Swat said he needs certificate to stay in hotel in Islamabad for business purpose.
EPI Head in KP Dr Arif told TNN that fake vaccination happened due to hacking of Nadra data entry password. He said the KP Health Department informed the NCOC about fake certificate, which referred the matter to the FIA and identified the officials involved in this practice. He said those found involved in fake vaccination and issuing fake certificates are being dealt with sternly.