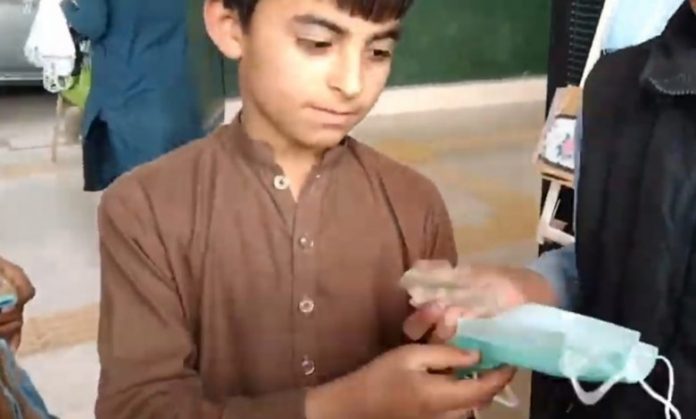 PESHAWAR: Coronavirus pandemic has caused loss of millions of lives worldwide, but it has also created few jobs particularly for vendors selling facemasks.
Muhammad Shafiq, a boy from Peshawar who sales masks outside BRT stations for 12 hours daily, says he simply does so for making ends meet and not for fulfilling his little desires. Intensity in coronavirus rate helps facemask sellers earn more. He said during corona peak, he sales three or four packs of facemasks and earn from Rs1,000 to Rs1,500.
Shafiq told TNN that he stays at the BRT station from morning till night and use the floor of the station for taking rest. He says he is not bothered about the weather conditions as he always remains occupied with thoughts of winning bread for his family. He says he never finds tie to have meal with family and eats whatever is available from other vendors near the bus terminal. He said the current third wave of coronavirus has forced the people to buy more facemasks and income of vendors selling the masks has increased remarkably. He says when corona situation was relaxed, vendors used to plead the people for buying masks, but now people are buying masks on their own.
Ashfaq Hussain, a local journalist, says very few people wear facemasks in cities despite the fact that these areas are more congested. He said the less educated people are not following the standard operating procedures (SOPs) in letter and spirit that is why the ratio of corona is increasing with a rapid pace.
According to the Health Department, the three major hospitals are facing immense pressure due to increasing number of corona patients. The Lady Reading Hospital has 303 admitted patients, including 22 on ventilators, 151 are admitted to Hayatabad Medical Complex, including 38 on ventilators, and 105 patients are admitted to Khyber Teaching Hospital including 24 on oxygen supply. The Provincial Doctors Association says corona cases have multiplied due to lack of precautionary measures by the citizens. The Association has called upon the people to follow the SOPs to stem the spread of the virus. They say people must wear facemask to ensure personal safety and safety of others.
Hits: 1