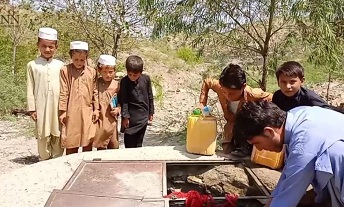 Rifaqatullah Razarwal
PESHAWAR: The people of Khyber tribal district, who returned after life of displacement due to militancy, are facing the problem of water shortage and the issue is aggravating with passage of time.
Mela Koroona is a village in Ali Masjid area, 1,500 feet from the main highway on a mountain where there is only one freshwater well for a population of 300. The women and children of the area walk through the difficult stony routes to reach the well to fetch water for domestic use.
A local resident, Barkatullah told TNN that a pipeline was laid in the area recently, but that could not absorb pressure due to altitude and burst from various points. He said there is only one well in the entire village, and the villagers have to dug it again when it goes dry. He said in case of monsoon rains, the well water gets polluted and becomes unusable. In such a situation, men go to pond to fulfil their needs, while women and children had to suffer a lot.
Barkatullah said a good quality pipeline from tube well can resolve the problem, which is estimated to cost about Rs300,000.
The local children come with pots in their hand and they wait for their turn to fetch water from the well. A child there told TNN that when he is tired while carrying water pots, he takes rest on the way.
Abdullah, a fourth grade student, said he thinks about availability of water in the well the whole day in school, and picks up pots to bring water as soon as he reaches home from school.
The people of Mela Koroona were also displaced due to militancy in 2012, and the water shortage problem remains unresolved for the last nine years. Javed Ali, a local resident, said this season, the water of the well is unusable due to monsoon rains.
Local member Khyber Pakhtunkhwa Assembly Bilawal Afridi said he will resolve the issue of water shortage in Mela Koroona from personal budget. He claimed that his family has resolved 90 percent problems about water in the constituency during the last eight years, and the remaining problems would be resolved within few months.