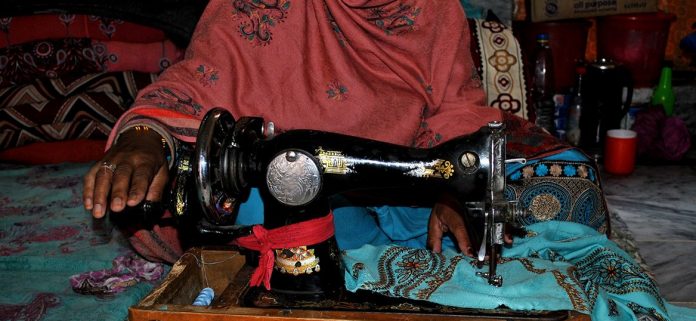 Hina Gul and Rani Andleeb
MARDAN/PESHAWAR: Amna from Pohan Colony of Mardan has obtained a diploma of fashion designing from Mardan Vocational Centre and now she is earning well by working on embroidery at home and spends on her household needs and education of her children.
Amna says there are few vocational centres in Mardan and that too in far off areas where the facility of transport is not available due to which many women who aspire get admission there can't do it.
Like Amna, Basmina from Ramdas areas of Peshawar has also learned sewing and works from home for earning livelihood.
Basmina says her family couldn't afford to provide her higher education so she decided to continue education as a private candidate from matriculation onwards. She says the financial condition of her father was weak so she decided to take admission in a vocational centre at Kohat Road and learned related skills.
Basmina believes that learning skills is a great asset for girls because with it they can stand on their own feet and earn livelihood with dignity. She started sewing clothes for family members and soon the relatives and neighbours came to know about it and started coming to her for stitching their clothes.
Basmina says she earns on average Rs25,000 per month while working from her home. She says unfortunately she couldn't get regular education due to financial constraints, but now she is educating her younger brothers and sisters in regular classes. She says she also helps her parents in her household work and expenses.
"Even if girls have to leave education due to some reason, they must get vocational training which would help them in the long run," she told TNN.
Social Welfare Officer Mardan Abdur Rashid says there are a total of 23 vocational centres in the district including two centres for beauticians where only the girls are given admission. He said the number of vocational centres is low as compared to the huge population of the district. He said the government should open more vocational centres to benefit maximum women.
Vocational Training Institute Labour Colony Principal Nasreen Kosar says 52 women are enrolled in the centre who get training in sewing, embroidery, designing and jewellery making. She says most of the trainees of the centre are employed now.
Nasreen Kosar says instead of doing nothing, the women should learn different skills which may help them at crucial stages of life.
Hits: 0