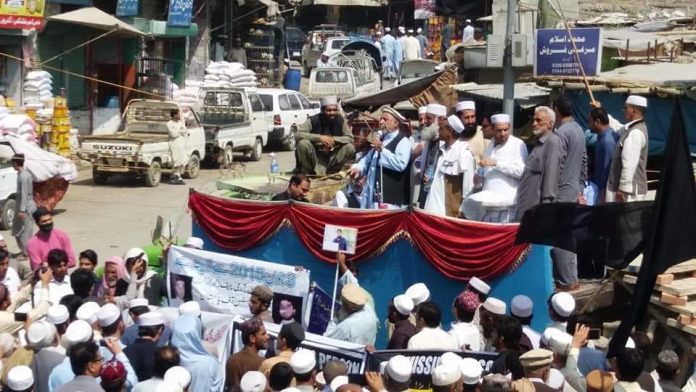 Rifaqatullah Razarwal
PESHAWAR: During the last two months, the names of six active members of the Pakhtun Tahaffuz Movement (PTM) have been placed in 4th Schedule of Anti-Terrorism Act 1997.
Independent Member Khyber Pakhtunkhwa Assembly from North Waziristan tribal district Mir Kalam Khan Wazir told TNN that six members of PTM including Idrees Pashteen, Shahid Sherani, Zohaib Pashteen, Ijaz Pashteen, Tanveer Jarar and Abdullah Nangial have been included in 4th Schedule.
Mir Kalam said some leaders of the PTM have asked the Interior Ministry to divulge reasons behind inclusion of the activists in 4th Schedule, but no reply has been received. He said he would submit a calling attention notice in the KP Assembly in which a demand would be made from the legislature to end step-motherly attitude with peaceful activists. He said students are also included in the list. He said he is also considering approaching the court on the issue.
Mir Kalam questioned on what basis the names of people associated with a movement for supremacy of the Constitution and Pakhtun rights is being put on 4th Schedule.
What is 4th Schedule?
According to ATA 1997, when an intelligence agency informs the provincial government about a person being associated directly or indirectly with a banned outfit then his/her name is included in 4th Schedule.
According to law, security institutions (police, special branch and civilian intelligence) would keep an eye on the activities of persons included in 4th Schedule. A person on the list would have to inform the respective district police officer (DPO) about his movement.
Senior lawyer of Peshawar High Court (PHC) Manzoor Bashir Tangi told TNN that people associated with banned outfits or organisations under scrutiny may be included in 4th Schedule. He said the person on the list would have to give surety bond to the concerned DPO and the police may arrest him if he fails to do so.
Manzoor Bashir Tangi said if someone's name is included on the list unjustly then it would be a violation of Article 4 of the Constitution. He said it is against the law to put someone involved in trivial offense on 4th Schedule. He said the aggrieved person may approach the court if he feels he is unjustly included on the list. He said according to anti-terror laws, a person can stay on 4th Schedule maximum for three years.
According to National Counter Terrorism Authority (Nacta) website, 8,237 people have been included in 4th Schedule during the last seven years and 4,775 names have been removed.
Steps needed to curb terrorism
Current affairs experts say misuse of power against human rights activists creates unrest.
Chairman Department of Peace and Conflict Studies, University of Peshawar Prof Dr Jameel Chitrali said while talking to TNN that the history of Pakistan is full of inclusion of names of political and social activists in 4th Schedule and its results were not good.
Prof Jameel Chitrali said PTM is a peaceful rights organisation of youth. He said inclusion of PTM activists' names in 4th schedule would dent the peace efforts. He said it is unfortunate that democratic institutions are weak in our country due to which the policies are also weaker. He said 4th Schedule is for terror outfits which negate the Constitution, but the PTM always talks about Constitution and law. He said such acts incite the youth towards rebellion.
KP govt viewpoint
TNN tried to contact Special Assistant to KP Chief Minister on Information Kamran Bangash to know the point of view of KP government on the issue, but he did not respond.
Law Minister Fazal Shakoor Khan said he is unaware about the issue. He said he hasn't received briefing on the issue, but said the government must have some justification for this act. He said there are several video and statements by PTM leaders which are against the country's solidarity.
Hits: 6