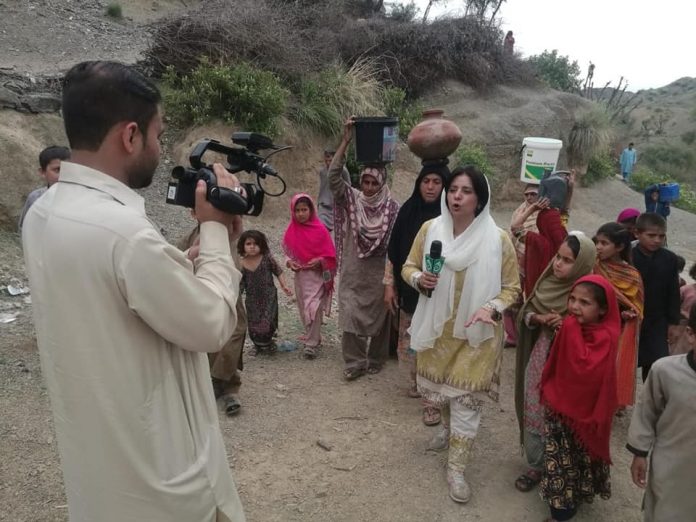 Ayesha Yousafzai
PESHAWAR: Following in the footsteps of the federal government, the government of Khyber Pakhtunkhwa has also decided to bring the Journalist Protection Bill to the provincial assembly.
According to KP government spokesman and Special Assistant for Information and Higher Education, Kamran Bangash, just like the federal government, very soon the KP government will also present Journalist Protection Bill in the Assembly. The bill would comprise journalists' basic rights, insurance, training, investigation and other important matters.
In Pakistan, a few days ago, Journalist Protection Bill was presented in the National Assembly. Minister for Human Rights Shireen Mazari had tabled the bill in the National Assembly after two years of efforts to ensure the freedom of journalists and media persons, neutrality and freedom of expression, but the bill hasn't been approved by the Senate yet.
The purpose of the Journalist Protection Bill is to give basic rights to the people belonging to the law and journalism field, to help them conduct their duties in the areas that are being affected by disputes without facing any hindrance.
According to the bill, the government will take steps to protect media personnel from any kind of abuse and exploitation at the hands of any individual, whether private or public, or authority.
According to Iqbal Khattak, a senior journalist who is associated with "Reporters Without Borders", the bill's draft was shared by the government with journalists and organisations that work for the rights of journalists, at the time of its preparation.
"But we aren't sure about the bill that has been approved by the cabinet, whether it includes all the clauses that we had been shown previously or not. Nor do we know if they've removed anything from the said bill and added new ones."
He added, "If the approved bill contains all the points that the government had agreed upon then we must say that this bill is up to the mark because it contains the United Nations Plan of Action, which sets out procedures for the protection of Journalists."
He said this bill has high importance because the killers of journalists in Pakistan often go unpunished due to various reasons.
Iqbal Khattak said, "We have three cases of the same nature, such as Daniel Pearl, Wali Khan Babar, and Ayub Khattak. In their murder case, High Court and Supreme Court passed the order to set the culprits free who were involved in this killing. "Hence it's very difficult for us to carry our journalism in such circumstances."
According to another journalist, Gohar, the bill for media professionals has been drafted after consultations between the government and various journalists' organisations. For example, the bill also includes that, journalists will not be asked about their news or information sources on any future forum. Secondly, journalists will be allowed to work in any area without any fear and they will not be harassed. And the important point that has been brought forward is that the bill would make owners and newspapers formulate a security policy for their working journalists to protect them.
He added that the Freedom Network in Pakistan has submitted a report stating that the past year has seen an increase in violence and attacks on journalists, but this year there has been a 40 percent increase in such incidents.
According to him, the record of cases reported in one year is around 148 but most of the cases have been recorded in Islamabad and Azad Kashmir as compared to the former tribal areas. Now, it will be a good effort for journalists if the government takes this bill seriously.
Journalism is considered to be the fourth pillar of the state, but unfortunately in our country, journalists also face many problems within the organisation, even if it is about their salaries.
Talking about this issue, Fida Adeel, a journalist associated with electronic media, said that no matter how hard work is done in our field, we do it by keeping our lives at risk, so that the people can get access to complete and true information. "But despite all of this, our job security problem is still there. People are fired from institutions just with an email or phone call."
And the same issue happened to me about a year ago when I was working as a senior reporter on a private TV channel. We got an email of the same nature from our channel owner in which we were told that this channel is being closed from today for no apparent reason. And that's what exactly happened. All the employees of the company were fired for no reason.
There are thousands of unemployed journalists all over Pakistan and there is an urgent need to work for them. Journalists do not have job security. There are some big institutions whose system is good, but the small companies who are taking advertisements and concessions from the government, but the rights of a journalist are not taken care of, which includes their right of salary and many other rights of the journalist. Journalism is a class that raises voice for the rights of others, but falls victim to many cases of abuse itself.
Journalists have praised the Journalist Protection Bill, but have also said that they should be given job security. Moreover, they say media owners should give journalists their due rights.
Hits: 0