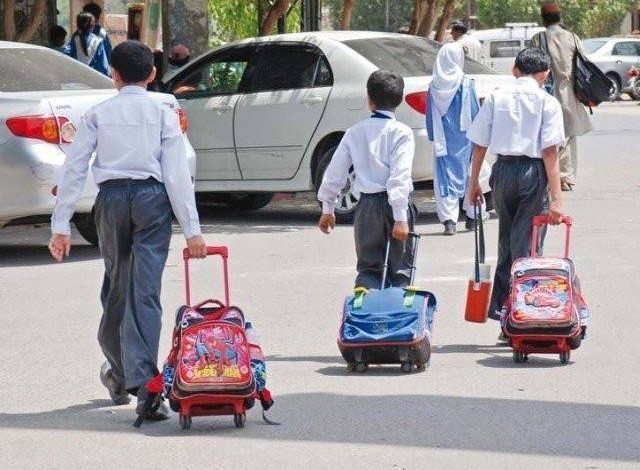 Salma Jahangir
PESHAWAR: The Khyber Pakhtunkhwa Schoolbags (Limitation of weight) Act, 2020 has not gone well with some parents who argue that the educational institutions were closed several times due to coronavirus lockdown and now the focus has shifted to the weight of schoolbags instead of improving education standard.
Zakia, a housewife from Peshawar, says the studies of her children were affected as the schools have been closed third time due to coronavirus lockdown, and now the students are being asked to come to school with few books. She says she is not well educated and cannot teach everything to her four children at home. She says she is worried for future of her children.
About the Act
The KP Assembly passed a bill limiting the weight of students' schoolbags in December last year.
The bill sets a different weight limit for each class in accordance with the nature of their time tables. The schoolbag weight limit for first graders will be 2.4kg, 2.6 kg for second graders, and a maximum of 3kg for third graders.
The bill says action will be taken against heads of government educational institutions where children are found to be carrying schoolbags in excess of the prescribed weight. Private schools violating the bill will face fines up to Rs200,000.
Status of implementation
Like other Acts of the KP government, the Act abut schoolbag weight also could not be implemented in letter and spirit.
Saima, a government schoolteacher, wondered what formula the government used for prescribing the weight limit of schoolbags. She says all subjects are taught to students every day. She says the government should also devise time-table under which the subjects would be taught on alternate days to keep the weight of schoolbags on lower side.
Zeenat, a private schoolteacher, says her school is implementing the Act since January and four subjects are taught in one day. She says she is in favour of the Act which has reduced physical and psychological burden on students.
However, Ms Saima disagrees with Ms Zeenat, arguing that the strength in classrooms of government schools is much higher than private schools and it is not possible for a teacher to collect books in different sets from all students and then distribute them on daily basis.
Psychologists are of the view that excessive weight of schoolbag weakens the physical and mental growth of students. However, parents say they want guarantee that this Act would not affect future of their children.
Ishrat, a woman from Peshawar, says students need more study due to the lost time during coronavirus lockdowns. She believes that the schoolbag weight law may prove counterproductive under these circumstances.
Hits: 19