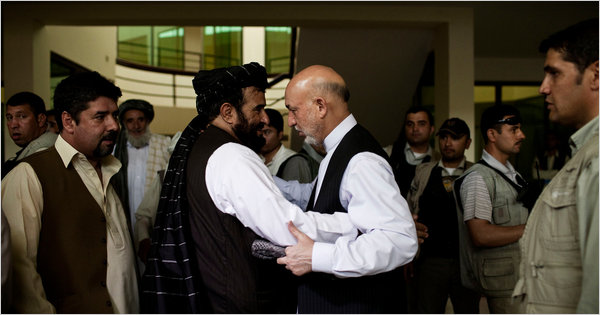 Anwar Zeb
PESHAWAR: Hamid Karzai, who was in exile in Quetta, Pakistan, since 1994, had his eyes set on the future of Afghanistan. For that purpose, he turned down numerous opportunities to relocate to the United States. Meanwhile, during his exile in Pakistan, he was in frequent touch with the US and other Western ambassadors, as well as CIA officers, in order to overthrow the Taliban administration as soon as possible.
When Mullah Omar refused to extradite Osama bin Laden to the United States after the 9/11 attacks, the Bush government decided to take the matter of revenge into its own hands. For that reason, the United States started regular airstrikes on Afghanistan on October 7, 2001, targeting 31 Taliban strongholds in Kandahar and Kabul.
Before the US invasion, Hamid Karzai had guessed and had re-established contacts with tribal elders in the Uruzgan province bordering Kandahar. These contacts increased after the attack. Karzai was gathering his close friends and tribal elders in Uruzgan against the Taliban. For this purpose, these leaders were called to Quetta several times.
In her book "A Man and a Motorcycle," Dutch journalist Betty Dim claims that Hamid Karzai and some of his companions drove to the Chaman border, bought two motorcycles, and travelled to Uruzgan a few days after the US attacks. Haji Hafizullah, who was eventually named ambassador to the UAE during Karzai's administration, accompanied Karzai on a motorcycle. Karzai was given satellite phones and dollars by CIA operative Craig in order to sway the local militia's views and encourage them to pledge to fight the Taliban.
Karzai was making his first trip to Uruzgan since his father's death. Earlier, he had travelled there to attend his father's funeral despite an open Taliban threat, and he had left for Quetta immediately afterwards. At the time, Hamid Karzai was one of the Taliban's most wanted men.
Hamid Karzai's father Ahad Karzai was the Populzai tribe's head. He moved to Quetta, Pakistan, with his family as his relationship with King Zahir Shah worsened. On July 14, 1999, motorcyclists shot and killed Ahad Karzai outside his home in Quetta. The Taliban are strongly suspected of carrying out the assassination.
According to Betty Dim, upon arriving in Uruzgan, Karzai tried to incite local tribal leaders to revolt against the Taliban. Karzai assured them that the United States would help them fight against the Taliban. After gathering a small commotion, Karzai asked the CIA for weapons.
US forces dropped 300 Kalashnikovs and other weapons for Hamid Karzai and his militia by helicopter on November 1. When word of the weapons reached Kot, the Taliban dispatched a convoy to assassinate Karzai. However, before the convoy could arrive, Mullah Baradar informed Karzai of a possible attack, and Karzai managed to flee.
Mullah Baradar, who belongs to the Populzai tribe, is said to have warned him the day before to save Hamid Karzai. Mullah Baradar was the chief of the Deh Raud district, which bordered Tarin Kot at the time.
"After losing the battle with the Taliban, Karzai went to Charchino and other areas with some of his comrades, but the locals refused to support him," the A&A motorcycle added. Karzai examined the situation and decided to return.
When he reached Darji, he requested CIA assistance in evacuating to Pakistan. He was flown to Jacobabad by helicopter. Craig, a CIA agent and a friend of Karzai's, came on the scene to save him.
In his book "No Good Man Among the Living," another journalist, Anand Gopal, claims that when Hamid Karzai met American Lieutenant Colonel Jason Amirin in Jacobabad, he chose to return to Uruzgan, but this time with the US military forces. He made a strategy for bringing the soldiers along.
According to Gopal, on November 14, 2001, Jason Amirin, along with Hamid Karzai, 11 Special Forces commandos and CIA agents, landed near Tarin Kot to carry out the plan. He met with locals for a few days and was preparing his men to attack Tarin Kot when Karzai was informed that Tarin Kot had already been evacuated by the Taliban. He further wrote in the book that when Hamid Karzai and his associates reached Tarin Kot, the Taliban sent Mullah Manan from Kandahar with hundreds of Taliban to attack him. Before capturing Tarin Kot, however, US airstrikes repelled the Taliban, resulting in numerous casualties and property damage. "The Battle of Tarin Kot" is another name for this battle.
While Hamid Karzai was fighting in Tarin Kot and Kandahar, the Bonn Conference decided to make Karzai president at the same time, despite opposition from Uzbek leader Abdul Sattar Sirat. At the conference, Sirat had won more votes than Karzai, but this time the United States needed a Pashtun leader and there was no better option other than Karzai.
Karzai was also wounded in a US airstrike before hearing the news of becoming president. The attack took place in Kandahar. The attack injured three Special Forces commandos, a local militia soldier and Amir Jason, the head of Team A.
Hamid Karzai was elected acting president at the Bonn Conference on December 5, almost two months after the first US operation in Afghanistan, and was flown from Kandahar to Kabul by helicopter.
A Grand Jirga was held in Kabul in June 2002. The jirga was attended by 1,550 delegates from around Afghanistan, including 200 women, according to an article on the Council on Foreign Relations website. Hamid Karzai was elected President by the jirga. Hamid Karzai was re-elected President of Afghanistan in October 2004 with 55 per cent of the vote. Someone was elected by popular vote for the first time in the country since King Zahir Shah's reign. Hamid Karzai was re-elected President in November 2009 and served until 2014.
According to celebrity biography website Britannica.com, Hamid Karzai was born in 1957 in Kandahar. He got his early education in Afghanistan and later earned a master's degree in political science from the University of Himachal Pradesh, India.  From 1978 to 1992, Hamid Karzai worked with the Mujahideen against the pro-Soviet government. After the fall of Najib's government, Hamid Karzai was part of Burhanuddin Rabbani's cabinet in the Mujahideen government and served as foreign minister for two years, but was fired because of his secret links to Hezb-e-Islami. That led to an investigation in Kabul. Meanwhile, a rocket attack took place where Karzai was being held. In the chaos, Karzai fled to Pakistan.
Meanwhile, the Taliban's grip on the country began to strengthen. In 1995, the Taliban seized the Afghan province of Herat. In 1996, the Taliban overthrew the Mujahideen government. By 1998, the Taliban had taken over 90% of Afghanistan. At the time, the country was in a power struggle between the Taliban and Hezb-e-Islami.
Hamid Karzai's tribe, the Populzai, fought alongside the Taliban in Kandahar against Hezb-i-Islami's Amir Lalai, according to the book "The Man and a Motorcycle," in which Hezb-i-Islami was destroyed and Governor Amir Lalai fled to Iran and took sanctuary there.
According to journalist Betty Dim, the Taliban nominated Hamid Karzai for UN ambassador in exchange for the Populzai tribe's assistance, but he was denied the appointment due to Mullah Omar's resistance. Hamid Karzai sat in the opposition camp once more because he was denied the right to run for office, and the Populzai tribe was also neglected.
After his father's death, Hamid Karzai became the head of the tribe. Karzai is also said to have worked as a teacher at a language centre in Quetta and a school in IRC Peshawar. This is not only the story of Hamid Karzai but also the story of many other Afghan leaders.