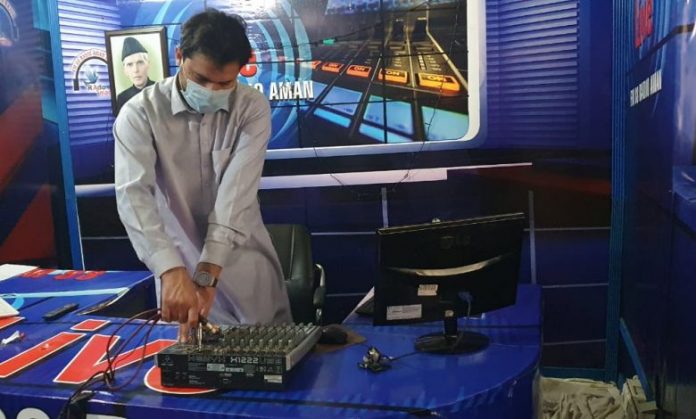 Salman Yousafzai
PESHAWAR: The Pakistan People's Party (PPP) leader and former lawmaker Akhunzada Chattan said while addressing a press conference in Bajaur on Tuesday that objection has been raised on Radio Shumal because it runs local news and whenever its reporters visit the field, people start criticising government performance and also raise questions about alleged irregularities in ongoing projects.
The PPP leader was reacting to closure of four radio channels in Bajaur by the district administration few days ago. Flanked by the staff of Radio Shumal, Akhunzada Chattan insisted that his channel is legal by all means and he possesses documentary proof in this regard. He said his channel is running its broadcasts since 2012.
Akhunzada Chattan said Pakistan Electronic Media Regulatory Authority (Pemra) had formally registered frequency of Radio Shumal and licence was not given as Fata was not merged with KP at that time.
The PPP leader said that he will apprise the heads of every institution, including the Chief Justice of Pakistan and army chief, of the issues being confronted by the people of his area and raise awareness among the masses through FM radio channels. He said it is not the first time that his radio channel has been closed.
Akhunzada Chattan said he is unable to understand how the transmissions of his FM radio station were against the interests of the state. He said Fata Secretariat information secretary and provincial minister Shaukat Yousafzai had also visited Radio Shumal office. He said he is also unable to understand why the district administration has sent notice to the channel which is the job of Pemra.
On March 30, Deputy Commissioner Bajaur Fayaz Sherpao issued a notification in which it was stated that four radio stations would be immediately closed for not having no-objection certificate (NOC) of the KP Information Department. It said the radio stations are operating illegally without NOC.
"These (radio stations) are telecasting biased and politicised programs. Locals are often complaining against these illegal FM stations during meetings and interactions with the undersigned (deputy commissioner)," it said.
The four radio stations which have been closed include:
FM Radio Station Shumal at PTV complex, Civil Colony Khar.
FM Radio Station Aman at Khar tehsil.
FM Radio Station Madrassa Tafheezul Quran, Yousaf Abad.
FM Radio Station at Jamia Sanavia at Salfian Colony Sadiq Abad.
"Beside the above, any illegal FM station functioning within the territorial limit of tribal district Bajaur are hereby ordered to be closed with immediate effect, in the best public interest," said the notification.
Muhammad Ali, Superintendent Information Department for merged districts, told TNN that they cannot issue licence or NOC to any private radio channel, as this is the domain of Pemra. He said he doesn't know why the deputy commissioner in Bajaur has asked radio stations to obtain NOC as the Information Department has not received any such orders from the provincial government.
Hits: 24