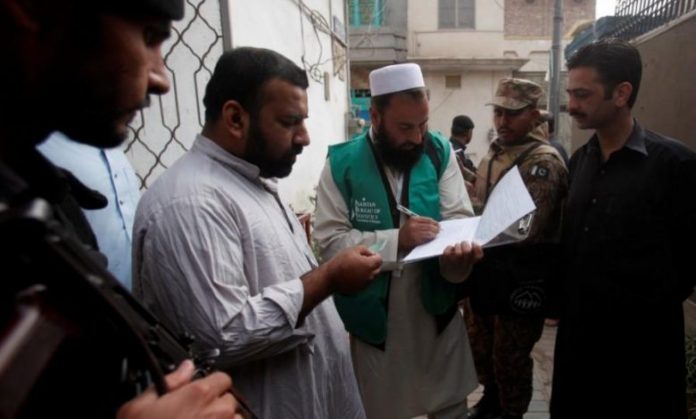 Rifaqatullah Razarwal
PESHAWAR: The Pakistan Bureau of Statistics (PBS) has finally released the report of the 2017 census with a delay of over three years.
The report was rejected by the representatives of Sindh and merged tribal districts of Khyber Pakhtunkhwa arguing that their population was shown much lesser than the actual position. The report shows the KP population at 30,510,000, while the population of merged districts is shown at 4,990,000 – 2,551,715 men and 2,441,000 women.
Independent MPA from North Waziristan Mir Kalam Khan said the undue delay shows that there was a difference between official statistics and ground realities. He expressed surprise over the fact that at the time of massive displacement from North Waziristan during military operation, the Disaster Management Authority had claimed that assistance had been provided to 1.6 million displaced people, but the census results show the total population of North Waziristan at about 550,000.
Distribution of resources
Mir Kalam was of the view that Pakhtuns are facing discrimination as they are not receiving resources according to their 'actual population'. He explained that there is a National Assembly seat for every 300,000 population in Punjab, but there is only one NA seat for over a million population in Bannu, which is a clear example of discrimination. He demanded a fresh census under the monitoring of the media and public to ensure transparent distribution of resources.
Under increasing public pressure, the Council of Common Interests chaired by Prime Minister Imran Khan has decided to conduct a fresh census before the 2023 general elections.
Expert opinion on census
Experts believe that conducting a population census after 20 years and then releasing its report after four years tantamount to usurping the rights of people.
Chairman Statistics Department of University of Peshawar Prof Dr Muhammad Iqbal, who is also a member of Governing Council of PBS, told TNN that the population of merged districts was affected the most due to delay in census. He said a government cannot ensure just distribution of resources and fulfil the basic needs of people when it doesn't know about their actual size of population.
Dr Muhammad Iqbal said it is unfortunate that people are too obsessed with nationalism, and collective national interest seems to be the lesser priority. He said untrained people collect census data in Pakistan, which is later on tampered to meet different political ends. He said the reservations of people of merged districts over census results are absolutely correct because many displaced people were not included in the surveys.
Official version on delay
TNN contacted KP Deputy Census Commissioner over reservations of people of merged districts on census results, but he refused to give his version.
Official sources said a case on the issue is being heard in a court and they are prepared to prove that their statistics are correct.
Former commissioner of PBS Habibullah Khattak said all those people alive till reference date are included in the population census. He said the census results help the government determine allocation of national, provincial assembly, civil service seats and resources for health, education, jobs and other requirements.
Hits: 0