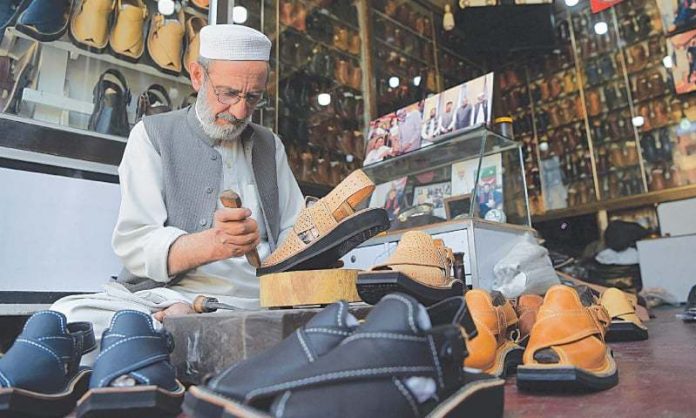 Salman Yousafzai
PESHAWAR: Like previous years, Chacha Noor Din also prepared five pairs of Kaptaan Chappal for Prime Minister Imran Khan on the occasion of Eid, but could not deliver due to the coronavirus restrictions. He has kept the chappals safe and whenever the prime minister gives him  time, we would deliver the gift.
Chaha Noor Din, owner of the famous Kaptaan Chappal shop in Namak Mandi area of Peshawar, who prepares special chappal for the prime minister every year, said his chappal are famous not only throughout Pakistan, but also abroad.
Noor Din said while talking to TNN that the dark brown, light brown and black colour versions of the Kaptaan Chappal are very famous and in high demand. He said the special feature of these chappals is that these don't cause sweating and gives a comfortable feel during summer.
"Our captain won't tire even if he works continuously if he is wearing our chappal. We are hopeful that the captain (Imran Khan) would like this gift," he said.
Noor Din said chappal made by him is liked by customers from all over the country and they specially arrive to buy it on special occasions, particularly during Eid. However, the business of chappal makers was also affected badly this year due to coronavirus lockdown. However, he said, after the lockdown and easing of restrictions, customers are again coming to his shops and his sales have gone up now. He said people even from London, US, Saudi Arabia, UAE and other countries buy Kaptaan Chappal just because the captain likes these chappals.
Muhammad Naseem, a customer from Quetta, said while talking to TNN that he came to the shop of Noor Din with his friends to buy Kaptaan Chappal. He said he did not find opportunity to come to Peshawar during Eid lockdown, so he decided to come after Eid. He said now he has bought about a dozen pairs of chappals for his close friends and relatives. He said he is a big fan of Prime Minister Imran Khan that is why he tries to follow him, and he wears Kaptaan Chappal to express his love for Imran Khan.