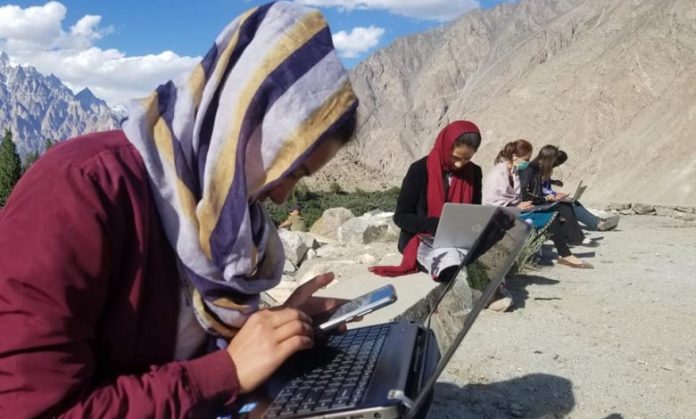 Salman Yousafzai
PESHAWAR: The University of Peshawar has announced online exams and cancelled in-person exams over protests by students and issued a formal notification in this regard.
The university spokesman Muhammad Nauman said that under the directions of the Higher Education Commission (HEC), mid-term exam of BS students will be conducted online and the process will continue even if the university is opened during the exam.
Nauman told TNN that there is a gap between mid-term and final term exams, and the decision about the final exams through online or in-person procedure will be taken under the HEC directions. He said decision in this regard will be taken keeping in view the satisfaction level of student from physical or online classes.
Why students want online exam
At the UoP, the Khyber Students Union Chairman Usman Khan Afridi told TNN that students, who held protests against physical exams for the last one month, are now happy over announcement of online exams.
Usman Afridi said students from merged districts were not in support of online classes because they faced a lot of difficulties due to lack of internet service in their area. However, he said, when the students were forced to take online classes, they arranged accommodation in private hostels in cities to have access to internet. He said student arranged online classes after going through very tough circumstances and now suddenly they are being asked to appear in physical exam. He said the students can't shift to university immediately and they also fear spread of coronavirus which has not gone yet.
Zona Javed, a Journalism student, told TNN that the threat of coronavirus is not over yet. She said she and her brother were infected with coronavirus and they fear further threat if precautions were not observed.
Zona said the university administration doesn't take students into confidence while making decisions. She said one-sided decisions always have negative effects.
Some students support physical exam
Some students are still in support of in-person exam, arguing that it is the most viable option to gauge actual competence of students.
Faiza from Virtual University in Peshawar said students did not get facilities during online exam which are available during physical exam. She told TNN that online exams have brought the education standard down. She said the university answers emails of students at least after two days, which is a huge wastage of time.
Government's viewpoint
The government says it is upto the universities to decide whether they want online or in-person exams.
Federal Education Minister Shafqat Mehmood says he was happy to note that HEC has formally allowed the universities to conduct online exams with adequate safeguards.
"This paves the way for them to devise right procedures quickly to do so. Education standards must be kept up. Work hard students and wish you the best," he said in a tweet.
Hits: 0