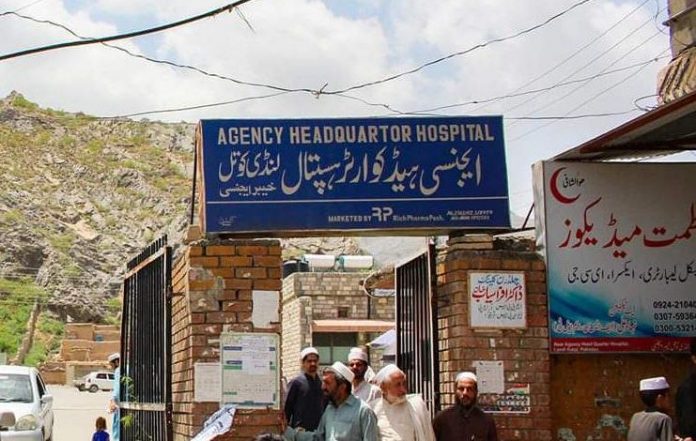 LANDIKOTAL: A man from Loe Shalman, Khyber tribal district has accused the staff of District Headquarters Hospital Landikotal of negligence in handling the case of his ailing mother, who had contracted coronavirus, which caused her death on Friday.
Mubarik Shah, son of the deceased woman, said he brought his mother to Landikotal Hospital on Thursday night and she was admitted to isolation ward, but no doctor or member of paramedical staff came to check his mother. He said his mother spent the night in the isolation ward without any help and in the morning, a doctor in the emergency unit referred her to Peshawar due to her serious condition.
The concerned doctor said the woman was already a patient of hepatitis and high blood pressure and her corona test also came back as positive. He said the woman was referred to the Hayatabad Medical Complex (HMC), but had to return due to lack of bed availability in the HMC isolation ward. She was brought back to Landikotal Hospital where she died on Friday.
The relatives of the deceased woman have demanded the high-ups of Health Department to take notice of the negligence by Landikotal Hospital staff. Eight doctors, four nurses and four members of paramedical staff in Landikotal Hospital have been imparted training to deal with coronavirus patients. Two ventilators have also been provided for coronavirus patients. However, sources say the concerned staff stay away from corona patients. At present, there are 52 confirmed cases of coronavirus in Landikotal, while the actual number is believed to be much higher as many people prefer not to go for expensive corona tests.
The sources said complaints against medical staff of Landikotal Hospital are increasing due to lack of proper treatment to corona patients. Medical Superintendent Nek Dad Afridi remains busy in training courses. Acting Medical Superintendent Dr Muhammad Shinwari said all machinery is available at the hospital, but there is shortage of trained staff. He said about 25 doctors and nurses are needed in the hospital to look after corona patients in three shifts. He said the hospital needs more staff amid the extra pressure created during the third wave of coronavirus.
Hits: 1