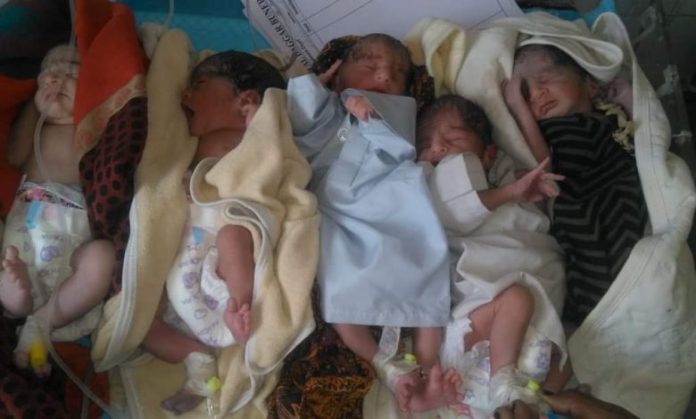 Azmat Tanha
BUNER: A woman has given birth to quintuplets, four girls and a boy, at District Headquarters Hospital Buner.
The parents of the quintuplets are over the moon with the arrival of five more children to their family at once. The father of the children said he is extremely happy over birth of quintuplets as after the birth of his first son he could not have children during last eight years.
"We had only one child for the last eight years and now we have been blessed with five more children at once," he told TNN.
The father of the newly-born quintuplets said he is very happy over this precious gift of God but at the same time he is worried about their well being as he is not financially sound. He appealed to the government to help him in bringing up his children as he has meagre financial resources and cannot take care of six children at once.
The hospital administration said all the newly-born babies are healthy and their mother is also feeling well. The woman and the children were in gynaecology department of the hospital from where they were expected to be discharged as they were in good health.
Swat domestic dispute and robbery
Two people were killed over a domestic dispute in Madyan area of Swat.
Police arrested the alleged murderer. According to police, Amir Khan opened fire on his mother and brother over a domestic dispute and killed them. The bodies were shifted to Madyan Hospital for the post-mortem. The police have lodged FIR and initiated investigation.
Meanwhile, robbers looted Rs2 million from a gemstone merchant near Sohrab Khan Chowk in Mingora City.
Police said gemstone merchant Sadar Ali was on his way back to home three robbers tried to stop him. Upon resistance, the robbers opened fire on him injuring him severely. They snatched Rs2 million from Sadar Ali and managed to escape.
He was rushed to Saidu Sharif Hospital for treatment. The police have registered a case against unidentified culprits and initiated investigation. The culprits could not be arrested till filing of this report.
Hits: 1