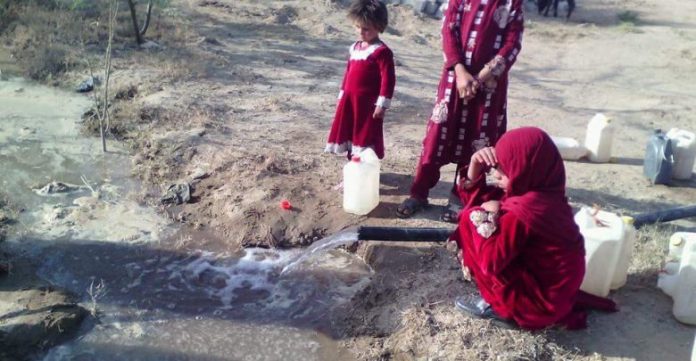 Khalida Niaz
PESHAWAR: Yusra, an eighth grade student from Mirdadkhel village in Landikotal tehsil of Khyber tribal district says she brings water for use at home after coming back from school, which is a difficult task, and that too almost on a daily basis.
Yusra says she is not alone who is facing this situation due to extreme water shortage in the area as a many other girls and women also cover long distance on foot to bring water on their heads.
Akhtar Shinwari, father of Yusra, who is a social activist, says the problem of water shortage is troubling people in many areas of Landikotal.
Water level has gone down
Akhtar Shinwari says the underground water level has gone down in Mirdadkhel, which is an impact of climate change, and no water is available in dug wells and tube wells. He says majority of people in the area are poor who cannot afford to buy water, and women and children cover long distances to bring water in extreme weather conditions.
Akhtar Shinwari says no considerable step has been taken by any authority to resolve the problem of water shortage in an area having about 30,000 population. He says as a social activist, he has visited many people during the last 15 years without much success.
"We have recommended to the government to make small dams to bring the underground water level up, but we are still waiting to have a good news on this problem," he told TNN.
No water for several years
The social activist says he was a child when he used to hear that water will be made available to Mirdadkhel from Shalman, but that did not happen. He says there is no water for drinking, washing clothes, bathing and other basic needs.
The problem of water shortage is also troubling the people of Sheikhmalkhel since long. Qayyum Shinwari, a local resident, says water in other areas is about 50 feet down, but in Sheikhmalkhel it is available as far as 270 feet below the ground level.
No water storage system
Qayyum Shinwari says the digging for water pump is an extremely arduous task and then there is no system for water storage. He said only about 10 gallons water is available after spending about Rs70,000 on digging. He says the Public Health Department has successfully installed two tube wells. He says the problem can be resolved if tube wells are installed in all areas.
The government approved Jabba Dam last year to resolve water shortage problem in different areas of Khyber district. The project will cost Rs9.9 billion and filtration plant on the dam is estimated to produce 32,300,000 gallons of water on daily basis.
Qayyum Shinwari says water level rises during snowfall, but lack of storage system means most of this water is wasted.
Barani dams can store water
Local journalist Mehrab Afridi says Barani dams in Landikotal can prove helpful in storing rainwater. About Shalman water supply scheme, he said the project exists in theory, but nothing is done in practice. He says the scheme, if completed, can resolve problem of water supply of 80 percent population of Landikotal.
Mehrab Afridi says the PCI-1 of the Shalman water supply scheme was prepared in May 2021. He said the project is estimated to cost Rs5,534 million.
Member of Khyber Pakhtunkhwa Assembly from Khyber district Shafiq Sher Afridi says Rs30 million have been allocated for survey of Shalman scheme in the Annual Development Program of 2020-21. He says a consultant from Karachi is working on the project aimed at supply water to Landikotal from Kabul River.
Hits: 2