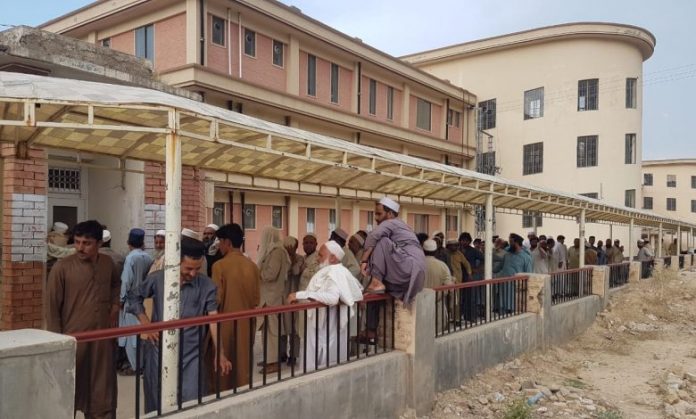 LANDIKOTAL: The people coming for corona vaccination in District Headquarters Hospital Landikotal, Khyber tribal district, are facing difficulties due to lack of facilities. They have demanded increase in vaccination supply and other facilities at the vaccination centre.
A large number of people, including women, are visiting District Headquarters Hospital Landikotal for first and second dose of corona vaccination under the government directives. However, due to shortage of staff and vaccination doses, long queues are witnessed outside the vaccination centre where people wait for several hours for their turn in extreme hot weather. The local women had to come to the hospital early in the morning and then they wait for vaccination for several hours.
The visitors at hospital told TNN that only one computer has been provided for entry of vaccination doses in the vaccination centre which consumes a lot of time. Only three officials are available at the vaccination centre – one makes entry in computer, another one makes entry in register, and the third one administers vaccine injection. The whole tiresome exercise and shortage of staff means that only about 500 to 700 visitors can be vaccinated during the entire day.
Hundreds of people had to return home after the whole day wait without vaccination. The local people said the government has declared corona vaccination mandatory for every person without any concession, so a large number of people are visiting the vaccination centres daily. They said the government should increase staff at the vaccination centre and also establish a separate vaccination centre for women so that they could administer vaccine without any cultural hindrance. Currently, there is no separate vaccination centre for women, due to which they are facing a lot of difficulties.
The locals said if the government has declared the vaccination is mandatory then it must increase counters and staff at all vaccination centres to complete the process earlier. Large queues are witnessed at many vaccination centres, particularly in big cities, as the government has issued clear directions that in case of lack of vaccination, the salaries of employees would be stopped and they would not be able to travel or conduct any official business.