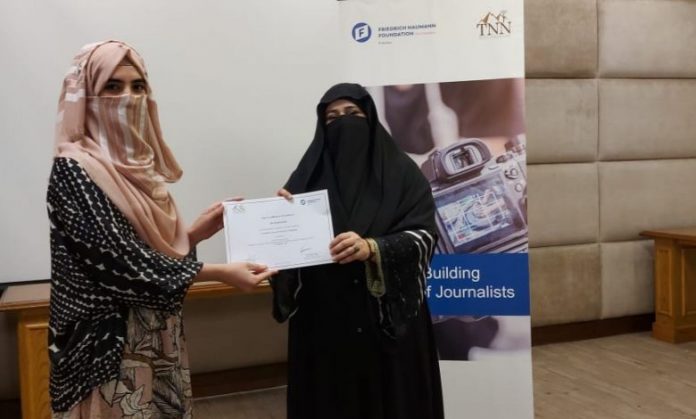 PESHAWAR: Member Khyber Pakhtunkhwa Assembly from Jamiat Ulema-e-Islam-Fazl (JUI-F) Rehana Ismail said on Friday that women must highlight their problems by utilising modern technology.
She said women need to be provided about the use of modern technology to enable them to solve their problems in an easy manner. Addressing a daylong workshop arranged jointly by TNN and The Friedrich Naumann Foundation in Peshawar, Rehana Ismail said women's problems can be understood and solved by women properly. She said that in this age of modern technology, trainings must be arranged for women on a regular basis to equip them with knowhow about the use of technology.
"Our women never lag behind in talent in any field," she said.
Women journalists and bloggers from Chitral, Orakzai, South Waziristan, Bannu, Nowshera and Peshawar participated in the workshop.
A participant, Seena, told TNN that she learnt a lot in the workshop. She said she learned about how to give the shape of a story to a blog. She said she also learned that how women can highlight their problems, particularly those problems which were previously not discussed.
"I also learned what is the difference between a news story and a blog," she said.
Nosheen Fatima, another participant from Orakzai, said the training was useful because she always wanted to share stories around her with people. She said the training helped her in knowing about sharing happenings around her in shape of blogs. She said she wants to write about women's issue through blogs.
Nosheen said women are facing a lot of problems related to education, healthcare and other matters. She said the problems of women hailing from merged tribal districts are even worse. She said she is hopeful that the problems of women of merged districts would be addressed after merger with Khyber Pakhtunkhwa and they will get their due rights.
At the end of the workshop, the chief guest distributed certificates among the participants.
The participant women bloggers and journalists said such training workshops must be organised on a regular basis to polish and improve their skills and enable them to get new ideas about issues around them.
Hits: 0