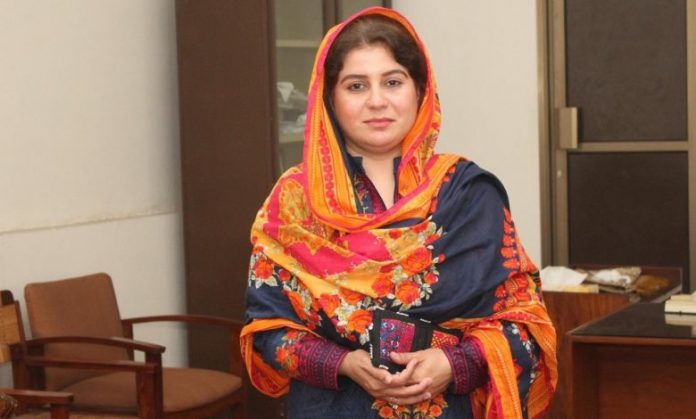 Salman Yousafzai
PESHAWAR: In our society, women cannot openly tell men about all their problems, and neither men can solve all the issues of women, so it's better for women to take part in political activities and don't always look at men for help.
This was stated by the Awami National Party (ANP) Member Khyber Pakhtunkhwa Assembly Shagufta Malik in a special interview with TNN. She believes that the problems related to women's basic rights, education, healthcare and other issues can be resolved in a better way if they are made part of the decision-making process.
Shagufta says most women in Pakhtun society are still deprived of their basic rights due to lack of awareness and conservative approach. "This is the reason why women are still subjected to domestic violence and mental torture," she said.
The ANP lawmaker says she had presented a bill against domestic violence in the KP Assembly. She says when people were confined to their homes due to coronavirus lockdown, the complaints of domestic violence increased, and finally the bill was passed from the assembly.
"It was a difficult task, but it became possible due to the special efforts of women lawmakers," she said.
Salient features of the bill
According to the bill, those indulging in violence against women would face up to five-year imprisonment and fine. A helpline would also be established for reporting domestic violence cases. The applications regarding domestic violence would be submitted in courts within 15 days of such incident.
Shagufta says the court would be bound to announce its verdict in two months. Upon non-implementation of the court verdict, the violators will face one-year imprisonment and Rs300,000 fine. The amended bill has ensured that women remain safe from violence and no injustice is made with men as well. District committees would be formed under the bill which would include deputy commissioner, social welfare officer, public prosecutor, representatives of police, khateeb, gynecologist and psychologist who would decide about the extent of violence in the cases brought before them. The committees would also work for reconciliation between parties to dispute and also arrange shelter home accommodation for the complainants. The district protection committee would also provide legal help and advice to the affected women.
A brief introduction
Shagufta Malik from Peshawar started her political career in 2004 and was elected district president of ANP in 2005. She holds a Master's degree in political science. The ANP awarded a ticket of KP Assembly to Shagufta Malik in 2008.
Shagufta says she originally belongs to a Khudai Khidmatgar family that is why she initiated her political journey from the platform of ANP as she wanted to follow the footsteps of Bacha Khan. She says the ANP is a great champion of women's rights. She says several Jirgas of women have been organised at Bacha Khan Markaz in Peshawar in which a message has been given to the world that Pakhtun women are peace-loving and they are promoting peace at their homes and in the entire country.
Hits: 0