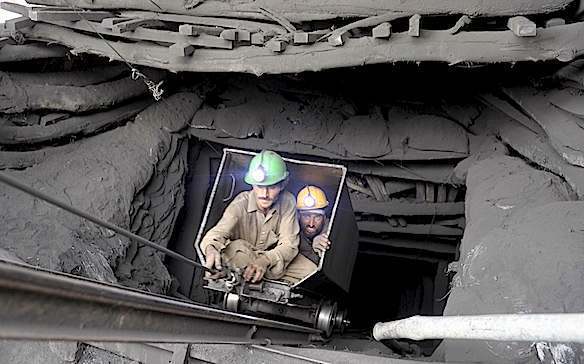 Tariq Aziz
SHANGLA: Life was going on as per routine for a poor family in Zara village of Dherai union council in Shangla until last week when a relative told the family that both the breadwinners for them have died in a coalmine blast in Balochistan.
Bakht Bibi, the mother of two brothers who died in the coalmine blast in Harnai district, said while talking to TNN that after losing her two sons, she would never allow her grandson to work in a coalmine come what may.
The two brothers died along with five other labourers in Harnai coalmine blast last week due to accumulation of gas. Now Bakht Bibi has to live with her widow daughter-in-law and two grandsons. She said it was not less than a Judgement Day for her when the bodies of her two sons were brought home. She said her elder son also took the younger brother to coalmine with him with a hope that he will support the family expenditure, while they will try to build own house with the income of brother. However, their little wish was buried with them.
'At least my children would get compensation'
Sakina Bibi, 22-year-old widow of the deceased coalmine worker, was in tears when she remembered the last words of her husband when he was leaving for the coalmine.
She has two children: four-year-old Kashif and two-year-old Rukhsar. Sakina Bibi says her son has started going to village school. She said she would endure all kinds of difficulties, but never send her son to a coalmine.
Coalmine mishaps are common in Pakistan due to lack of facilities, but still many people had to work there due to poverty. Media reports say over a hundred coalmine workers lost lives in Balochistan in 72 accidents last year.
Abid Yar, representative of an organization working for welfare of coalmine workers, told TNN that the condition of coalmine workers is worse and they are working in extremely hazardous environment. He said no official data is available about the number of coalmine workers dead or rendered disabled during accidents. He said the organization's own data shows that 174 miners died in different accidents in 2018, 194 died in 2019 and 204 in 2020. Now during less than three month of 2021, around 50 miners have lost their lives in different incidents and many others were rendered disabled.
Coalminers not registered yet
KP Minister for Labour Shaukat Yousafzai had promised registration of coalminers with Labour Department and online registration system was also initiated, but labourers are facing difficulties in it.
Coalmine Workers Welfare Association spokesman Sarfaraz Khan told TNN that labourers have no access to internet for registration with Labour Department and they don't have awareness in this regard. He said the registration process must be made easier and teams of Labour Department must be sent to coalmines to register the workers on the spot.
Hits: 1