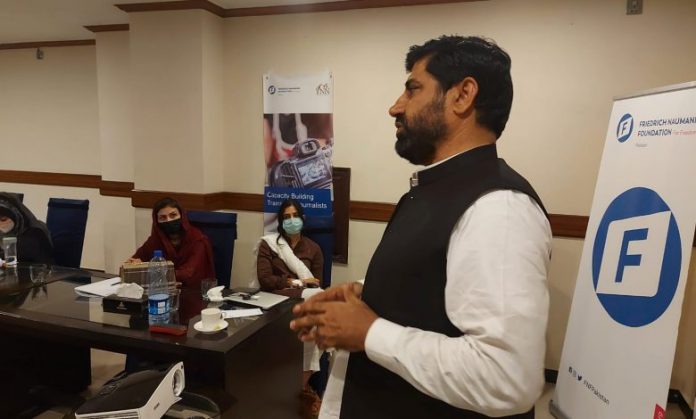 PESHAWAR: A training workshop was organised for women bloggers by Friedrich Naumann Foundation (FNF), a non-governmental organization, in collaboration with TNN, in Peshawar.
Twenty-four women bloggers, including those hailing from merged tribal districts, were imparted training during the workshop. The purpose of the workshop was to train the women writers about modern techniques of blog writing.
Salma Jahangir, a blogger from Peshawar, said that through the training she came to know about importance of selection of topic for writing blogs. She said women in KP are talented, but they don't get much opportunities of working outside home. She said even many women journalists are not allowed in our society to work in front of camera. However, she said, there is no such hindrance for women from writing. She said more women should write blogs to highlight problems faced by women.
The two-day workshop was divided into two sessions in which 12 bloggers each were given training in both sessions. On the first day of workshop, Baseerat Bibi, Member of Khyber Pakhtunkhwa Assembly from Khyber tribal district, distributed certificates among the participants.
Baseerat Bibi said speaking and writing about women's problems has become important more than ever before. She said the problems of women will keep increasing if they endure everything silently. She said it is very encouraging that more women are coming to the field of blog writing.
Nazia Javed, a blogger from Charsadda, said she has learnt a lot at the workshop and she would definitely write about women's rights. She said such workshops must be organised on a regular basis to give opportunity to more women to learn about blog writing and improve their skills.
The FNF Program Manager Aamir said the workshop mainly focused on improving the writing skills of women journalists and bloggers by optimum use of available technology.
On the second day of the workshop, Member KP Assembly Shafiq Afridi participated as chief guest and distributed certificates among participants of the training in second phase.
Speaking on the occasion, Shafiq Afridi said journalists play an important role in development of a society as they bring the truth before the people. He said journalism must thrive in a society to clean it from wrongdoings and improve the lives of people.
Hits: 0