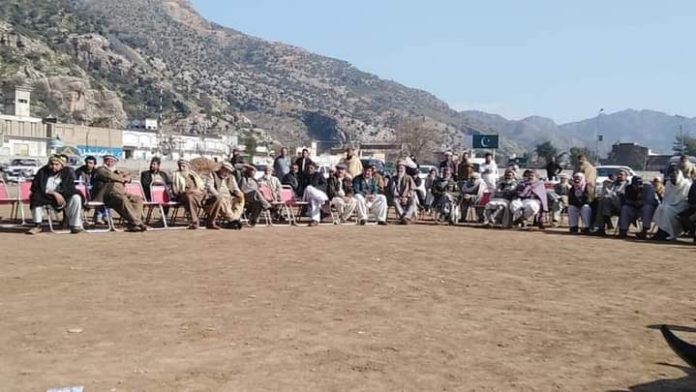 Shahzeb Afridi
DARRA ADAMKHEL: The youth of Darra Adamkhel associated with the Youth and Students Organisation did a commendable job by holding meetings with the Ulema of five tribes for informing the people about the hazards of narcotics from health and economic point of view, and also from religious angle.
The efforts of the youth bore fruit and the khateebs (prayer leaders) of about 95 mosques in the areas inhabited by Akhurwal, Zarghunkhel, Sheraki, Tor Chapar and Bostikhel during the Friday sermons put light on the hazards of drugs use from all angles.
Also, a grand Jirga of Adamkhel tribe was held at Shuhada Chowk last Sunday in which special invitation was extended to notables of four tribes of erstwhile Frontier Region (FR) Peshawar and Kalakhel tribe. During the Jirga, an appeal was made to the Adamkhel tribe to join efforts for eradicating narcotics. It was also made clear that the tribal system is far better than the system of settle districts, and it has solutions for all problems.
Taj Muhammad, a local elder, said while talking to TNN that strict action would be taken against drug pushers according to tribal traditions on credible information. He said actions were also taken against drug pushers earlier. He said this menace will be eliminated with the use of force against criminals.
Malik Sabir Khan, Chairman of Qasimkhel Coalmine Association, said everyone, even the drug addicts, are against narcotics.
"We will have to provide alternate opportunities to people to keep them away from narcotics," he said.
Malik Sabir Khan said the government must establish a full-fledged centre for rehabilitation of drug addicts in Darra Adamkhel on the pattern of such centres in Peshawar and Islamabad.
Shakir, a local youth, told TNN that several Jirgas have been held for curbing the use of drugs and the latest Jirga at Shuhada Chowk was the most fruitful.
"We will have to keep an eye on our homes. Fathers must not use naswar, cigarette or any other drug before his children and shouldn't ask his sons to bring these things from shop. Children must be kept away from these things," he said.
Malik Haji Naseem said the campaign initiated by the youth of Darra Adamkhel must be extended to the entire merged tribal districts. Fazle Malik said narcotics are brought and sold in Darra from other cities. He said some corrupt officials are hand in glove with narcotics smugglers who dispatch drugs to Darra.
Other tribal elders also spoke to TNN and said narcotics is a menace which can be eliminated only with combined efforts.
Hits: 0