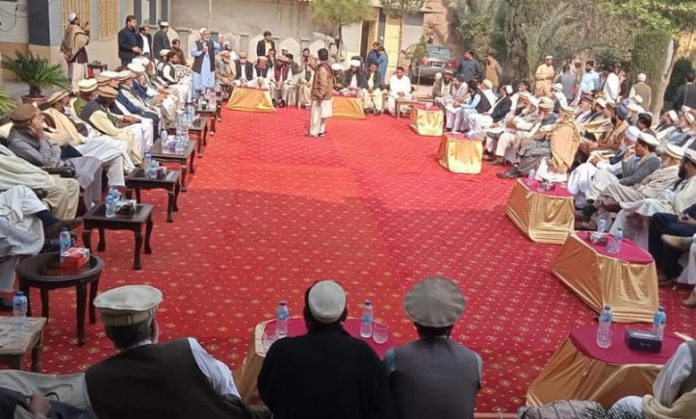 JAMRUD: Jamrud Khyber Qaumi Jirga on Tuesday held a gathering against the merger of erstwhile Fata with Khyber Pakhtunkhwa in Shahkas area.
According to TNN correspondent, the elders of Darra Adamkhel, Afridi, Mallagori, Shalmani and other tribes participated in the Jirga at the residence of Malik Bismillah Khan Afridi.
Tribal elders Bismillah Khan Afridi, Adamkhel Qaumi Tehreek Chairman Noor Zaman Afridi, Malik Islahuddin, Malik Tehmash Shalmani, Malik Khan Muhammad Afridi, Abdur Razzak Zakhakhel, Malik Rozi Gul Mallagori, Malik Najeeb Torkhel and others said the merger of Fata with KP was a historic mistake due to which the tribal districts went further backward. They alleged that the merger was carried out under a foreign agenda, and the parliamentarians committed a huge mistake by supporting the merger.
"The forces that supported the merger are also worried now over their decision. The federal and provincial governments have failed to deliver on their promises with merged districts," they said.
The Jirga elders claimed that even the prime minister and the KP chief minister are not happy over the results of the merger. Therefore, they demanded that the decision of merger must be taken back and tribal areas must be given the status of a separate province or council.
The tribal elders said the government had promised to give 3 percent share to merged areas in the National Finance Commission (NFC) Award and 20,000 jobs to youth besides Rs110 billion annual development program, but nothing happened practically, which speaks volumes about the incompetence of the government. They said the merger was imposed upon the people of merged districts without their consent. They said the political parties must join hands with them in opposition to the 'forced merger'. They said the problems of tribal districts increased after merger as more land disputes are surfacing which has compromised peaceful environment of the area.
The Jirga participants alleged that the whole scene of merger has been created to usurp mineral resources of tribal districts. They alleged that the youth were misguided to get support for the merger, but now the youth have realised their mistake. They said a huge movement against the merger would be launched soon.
Hits: 1